Standard & Pre-cleaned
Plastic Sampling Scoops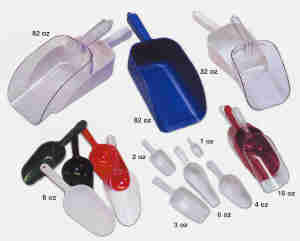 Our general purpose round-bottom scoop is the ideal product to use for soil sampling and other sampling applications where a low cost and disposable sampling device is preferred. Our 32 and 82-ounce scoops are made of durable polystyrene, and have a flat-bottom bowl.
Pre-cleaned Scoops - Each plastic scoop has been carefully cleaned to EPA protocol "B" and individually packaged in it's own poly bag.
Sterilized Scoops - sterilized by Gamma Radiation for food and pharmaceutical applications.
Description

Standard Scoops

Pre-cleaned Scoops

Sterilized Scoops

Capacity

Case Pack

Item

Case Price

Item

Case Price

Item

Case Price

4 oz.

25

8504-25

$37.60

8504-25C




44.85

-

50

8504-50

$70.80

8504-50C

$85.15

8804-50

$105.50

6 oz.

25

8506-25

$40.45

8506-25C

$48.10

-

-

50

8506-50

$80.85

8506-50C

$92.20

8806-50

$115.25

8 oz.

25

8508-25

$52.00

8508-25C

$59.80

-

-

50

8508-50

$98.75

8508-50C

$113.60

8808-50

$139.75

16 oz.

25

8516-25

$91.00

8516-25C

$118.30

-

-

50

8516-50

$163.75

8516-50C

$212.85

8816-50

$263.50

32 oz.

10

8532-10

$67.60

8532-10C

$77.80

-

-

25

8532-25

$152.10

8532-25C

$174.90

8832-25

$206.75

82 oz.

1

8582

$9.25

-

-

-

-

24

8582-24

$199.60

8582-24C

$259.50

8882-24

$317.65
---
Call us at 856-358-0345 Fax 856-358-0504
email us at conbar525@comcast.net